News
PreK Drawing for 2020-2021 will be held on April 2nd @ 3:30 . Drawing Procedures and Instructions: 1. Student MUST be 4...
Let's hear it for Mrs. Sara Black! She is our DECEMBER Support Staff of the Month. She and Mrs. John are like peas and carrots! Congratulations, Mrs. Black!!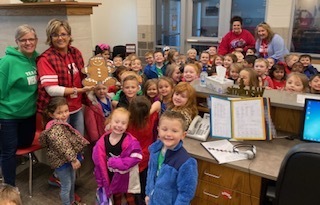 PreK has searched everywhere for the Gingerbread Man. . . .Mrs. Ellis, Mrs. Kaiser and I trapped him in the office, then handed him over to our PreK friends. Whew!
SEE ALL NEWS