Semester Test Schedule Tuesday, May 17th 1st hour: 8:00 to 9:15 75 min Breakfast: 9:15 to 9:25 3rd hour: 9:25 to 10:40 75 min 5th hour: 10:45 to 12:00 75 min HS Lunch: 12:05-12:35 30 min 7th hour: 12:40 to 1:55 75 min Chromebook/Make Up Time: 2:00-3:00 Wednesday, May 18th 2nd hour: 8:00 to 9:15 75 min Breakfast: 9:15 to 9:25 4th hour: 9:25 to 10:40 75 min 6th hour: 10:45 to 12:00 75 min HS Lunch: 12:05-12:35 30 min Chromebook/Make Up Time: 12:40 to 3:00 75 min *All students must turn in chromebooks, chargers, and bags at the end of their last testing session.

SENIORS FINAL TRANSCRIPTS AND DIPLOMAS ARE READY FOR PICKUP! Monday, May 23rd through Friday, May 27th only. The HS office will be open from 8:00-4:00. Seniors, if you will be having someone other than yourself pickup your transcript and diploma (family member only), you must email Ms. Avila and authorize who will be picking up your items. If you need an official transcript sent to a college, technology center, or employer, please email Ms. Avila with the location, and provide all the information. Again, congratulations on your achievement!

High School Volleyball parent meeting for tonight has been postponed. We will send out the new date and time ASAP. Hoping next week. Sorry for the inconvenience.


The Class of 2022 received scholarships totaling $1,111,691 during the Annual High School Awards Assembly on Friday, May 13th. A total of 76 scholarships were awarded to 47 seniors. The Class of 2022 would like to thank the following community organizations who contributed over $50,000 in scholarships to Chisholm High School this year. Organizations: Alpha Assessment and Counseling, LLC., Autry Technology Center, Cherokee Nation At Large, Cherokee Strip Foundation, Chisholm Education Association, Chisholm Public School Foundation, CHS Athletic Booster, CHS Band, CHS Band Booster, CHS FFA, Enid Chamber of Commerce, Integris Bass Baptist, James C. and Teresa K. Day Memorial, John C. Matousek Memorial, Kay Weldon, North Enid Lion's Club, Northwest Osteopathic, Oklahoma Farm Bureau, Oklahoma Foundation for Excellence.

Due to temperatures tomorrow we will be moving the HS awards assembly to the MS All-Purpose Building. Awards Assembly is Friday, May 13th at 1pm.

Athletic physicals will be Sunday, May 15th from 6-8pm in the High School commons. All athletes, cheerleaders, and band members must have a physical to participate next year. All athletes must have a physical before Summer Pride.

State Scholastic Meet Art & Music Art History: Bianca Kraft (8th) Music Theory: Ryley Johnson (3rd) Computer Computer Science: Paxton Baylor (10th) English English Usage 1: Eva Willis (4th) English Usage 3: Emma Green (4th), Logan Buford (9th) Vocabulary 1: Bianca Kraft (9th) Vocabulary 3: Logan Buford (1st), Emma Green (8th) Foreign Language Spanish 1: Casper Earl (5th), Shaun Worthen (7th) Spanish 2: Bianca Kraft (6th) Math Algebra 1: Jessica Duncan (2nd) Geometry: Abigail Hinrichs (9th), Cashen Shire (10th) Science Biology 1: Shaun Worthen (3rd), Casper Earl (6th) Biology 2: Emma Green (2nd), Madison McMahon (7th) Physics: Logan Buford (2nd), Ethan Brown (4th) Social Studies Government/Civics: Casper Earl (8th) Sociology: Ethan Brown (3rd)*, Madison McMahon (5th)* US History: Logan Buford (9th) World History: Logan Buford (1st) Top Scholar (All Categories) Freshman: Casper Earl (2nd), Bianca Kraft (4th) Junior: Logan Buford (1st)

CHS STATE TRACK RESULTS Girls 4x200 3rd place and a school Record! Girls 4x800 4th place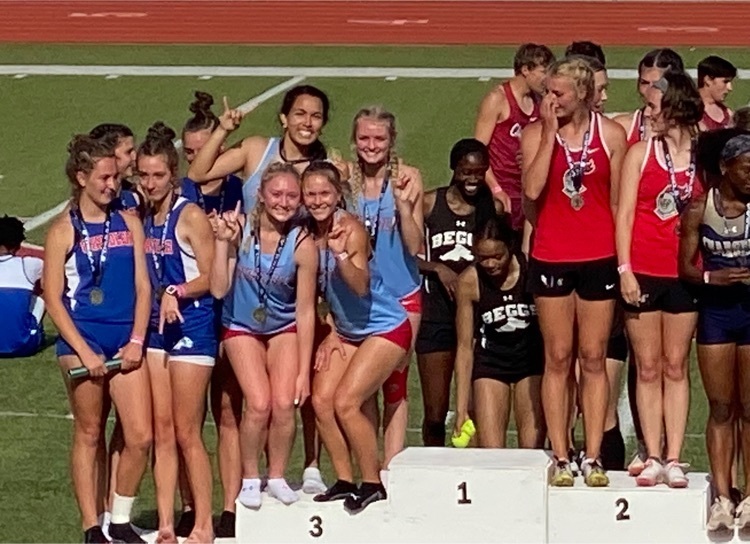 CHS Annual All Sports Reception Monday, May 9th CHS Gym 6:30 PM All athletes grades 9-12 and their parents/family members are welcome to attend. *All 9-12 athletes will be receiving and recognized for earning their CHS Sports Letter.

CHS TRACK REGIONAL RESULTS Girls Regional Champions Relays 1st-4x1,4x2,4x8 2nd-4x4 Individual Results 1st Hackett-100h, Pecha-800, Tennell-PV 2nd Nance-100h, Hackett-300h, Pasby-PV, Watkins-LJ 3rd McDowell-Discus 4th Green-3200, Andrews-PV, McDowell-Shot 5th Burns-100 and 200, Green-1600, Grimes-Discus, McDaniels-800 6th Nelson-300h, Roberts-Discus Boys 5th Relays 1st-4x8 5th-4x1 and 4x4 6th-4x2 Individual Results 3rd Epps-400, Haley-Discus 4th Jones-110h, Burd-HJ, Burrell-PV 5th Hisey-1600, Hennigh-3200 6th O Clark-1600, Flanagan-LJ, Sanabria-PV

Due to no electricity, we are delaying school until 9:00 today, Monday, May 2nd. Students will report to their 2nd hour at 9:00. Buses will be running late. We apologize for the inconvenience.

Week-At-A-Glance May 1-7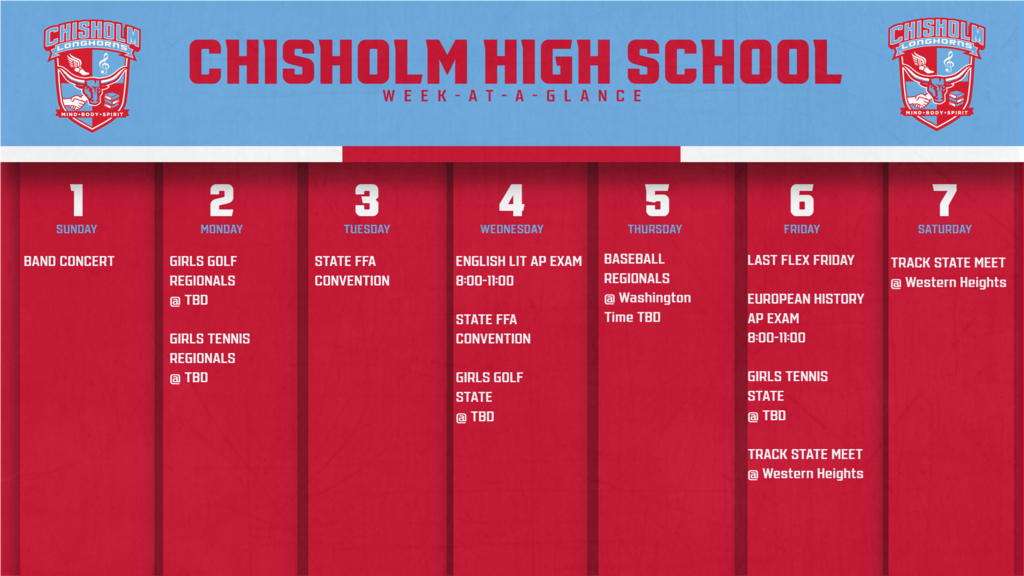 CHS GIRLS TRACK The girls won the regional track meet on Saturday at CHS. They will be competing at the state meet this next week at Western Heights. More details will be provided once announced. Congratulations to all of these athletes and coaches on a great season!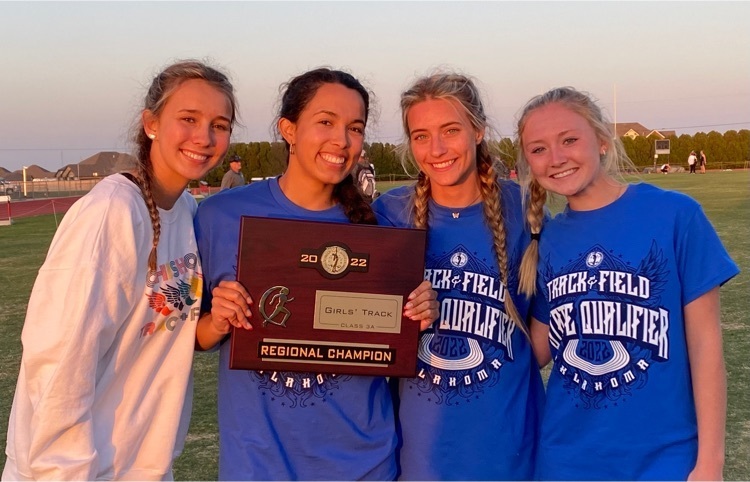 CHS Track Results from Watonga Girls 1st Relays 1st 4x1-4x2-4x4 3rd 4x8 Individual 200 Castillo-4th 800 Pecha-3rd,Streck-4th 1600 Green-5th 100h Hackett-1st, Nance-4th 300h Hackett-2nd, Nance-5t HJ Winter-2nd LJ Watkins-1st PV Andrews-1st, Tennell-2nd, Pasby-3rd, Eckert-4th Shot Grimes-1st, McDowell-3rd Discus Roberts-2nd, Grimes-3rd, Peace-5th Boys 2nd Relays 1st-4x4,4x8 4th-4x1 5th-4x2 Individual 100 Flanagan-4th 200 Flanagan-3rd 400 Williams-4th 800 Hisey-1st, Carpenter-4th 1600 Hisey-1st, O Clark-2nd 3200 Hennigh-2nd, Harmon-4th HJ Burd-4th PV Burrell-4th, Sanabria-5th Discus Haley-2nd

Week-At-A-Glance April 24-30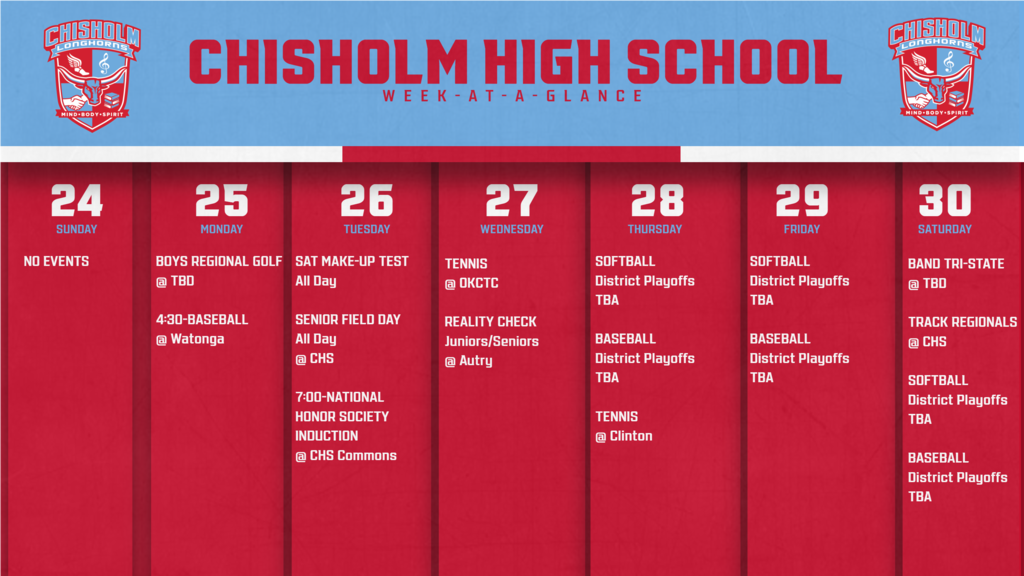 CHS SCHOLASTIC TEAM Online Testing Results Ethan Brown - Calculus (6th); Physics (5th) Logan Buford - Calculus (6th); English Usage (3rd); Vocab 11 (3rd) Jessica Duncan - Algebra 1 (3rd); Vocab 9 (9th) Casper Earl - Government (3rd) Emma Green - Algebra 2 (4th); English Usage (5th); Vocab 11 (2nd); World History (6th) Samantha Heil - World History (4th) Bianca Kraft - H&FA (8th); Vocab 9 (3rd) Shaun Worthen - Biology 1 (2nd); Spanish 1 (1st) Congratulations to all of our students who competed!

CHS TRACK RESULTS Chisholm High School Meet Girls 1st Relay 2nd-4x2 2nd-4x8 3rd-4x4 Individual 1st Andrews-PV 2nd Pasby-PV 2nd Hackett 100h 2nd Pecha-800 2nd Streck 400 3rd Tennell-PV 3rd McDowell-Shot 3rd Watkins-LJ 4th McDowell-Discus 4th Winter-HJ 5th Castillo-200 5th Hackett-300h 6th Nance-100h 6th Grimes-Discuss 6th Nelson-800 Boys 2nd Relay 1st 4x4 1st 4x8 4th 4x2 Individual 1st Hennigh-3200 1st Burrell-PV 1st Epps-400 2nd Sanabria-PV 3rd Flanagan-100 3rd 0. Clark-1600 4th Dodson-100 4th Cheslic-3200 4th Hisey-1600 4th Burd-HJ 5th Redd-800 5th E Clark-400 6th Jones-110h 6th Prince-100 6th Haley-Discus