HS Parent/Teacher Conferences will be held February 13th and 15th from 3:30-7:00 pm. Please contact your child's teacher to schedule a time to ensure availability.

Senior Parents: Just a reminder that scholarships are posted on the Senior Google Classroom page. Deadlines are quickly approaching, so please make sure your seniors are checking them out!
NHS will be selling Valentines in the Commons during lunch Monday, January 30th to February 2nd.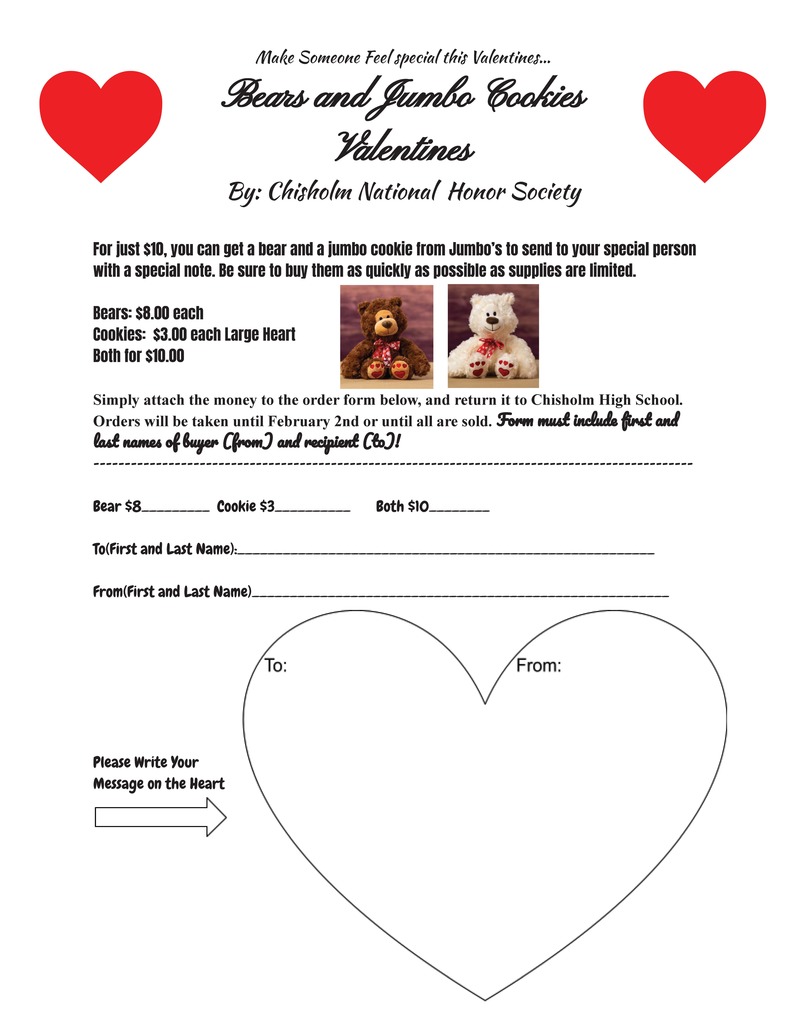 Hello Junior parents, There will be a Prom decorating meeting, Wednesday evening @ 6pm in the CHS Commons area.

The National Honor Society induction ceremony has been postponed until Monday, February 6th. the time has changed as well to 6 pm.

There will be an after prom meeting in the HS commons on Wednesday, January 25th at 6:00 pm.

Mrs. Warnock is scheduled to be in Ms. Stuckey's 1st, 2nd, 5th, and 6th hour classes tomorrow, January 11th. During this time, she will be discussing multiple topics including scholarship opportunities, ICAP graduation requirements, college visit procedures, and more. If your child isn't in Ms.Stuckey's class, they are more than welcome to attend one of those class periods to receive the information. Please contact Mrs. Warnock if you have any questions.

Report cards were sent home with students during 5th hour. If your student was absent today, they may pick up their report card from their 5th hour teacher through Friday. After that, all report cards will be in the office. If your student attends PM Autry, their report cards are in the office. If you have any questions, please contact Ms. Black at
cblack@chisholm.k12.ok.us
or Mrs. Warnock at
swarnock@chisholm.k12.ok.us

Our rep from SSR jackets will be here Tuesday, January 10th at 11:30 to hand out letter jackets purchased 1st semester. He will not be taking more orders at this time.

Junior Class After Prom Lip Sync Battle is today at 5:00 pm at the CES auditorium. There will be walking tacos, a dessert auction, and incredible performances. Bring your family and help raise some funds for a safe After Prom!

The high school semester test schedule has been posted to the website and our CPS Facebook page. We will again be helping the elementary school with their class parties in the afternoon of the 16th. We will return to the high school around 2:15. This will be a regular bell schedule day and we will NOT have Flex that day. There are no test exemptions for 1st semester and there will be no early testing. The makeup day for missed semester tests will be at 9:00 am on January 2nd.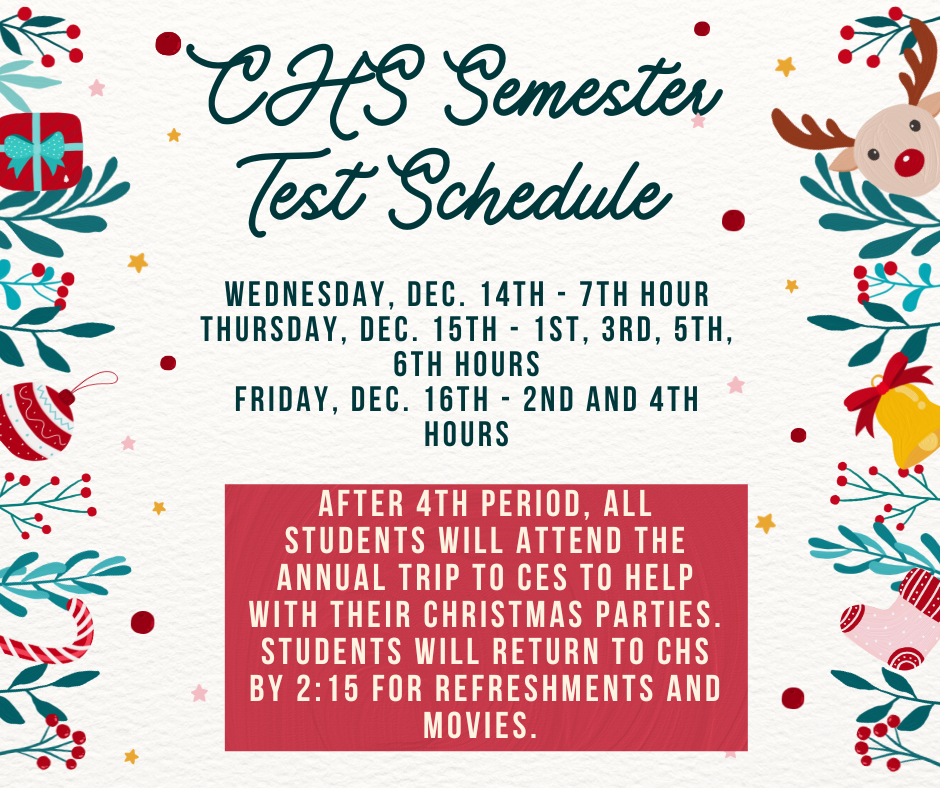 Sophomore Parents: PreACT test scores are going home with your students today in English. Mrs. Warnock is going over these with them. If you have any questions, or if your child is absent today you may contact Mrs. Warnock at
swarnock@chisholm.k12.ok.us
to get their scores.

Freshman Parents: 8th Grade test scores were sent home with your students during Advisory. If your child is absent today, or they don't make it home with their scores, you may contact Mrs. Warnock at
swarnock@chisholm.k12.ok.us
to get their scores. Have a great Thanksgiving!

Today is the last day to order Cap & Gowns. Please get them ordered ASAP to ensure they are here in time for graduation. If you still need to order one, go to Jostens.com. If you need help navigating the website, please contact Mrs. Moss in the office.

There will be a MS & HS Baseball player/parent meeting on Monday, November 7th at 6:00 pm in the MS gym.

Junior Parents! We are resending Pre ACT scores from LAST YEAR home during advisory today. If your student is at NOC or Autry during advisory, please have them stop by their advisory teacher's classroom. They will have until Wednesday to pick them up from their advisory teacher, then they will be in Mrs. Warnock's office.

The Varsity football game against OCS has been moved to Thursday, November 3rd at 7:00 pm. Same site to get tickets still applies.

Just a reminder that SSR Jackets will be here tomorrow at 11:00 am to take orders for letter jackets. This will be the last opportunity to order jackets in person this year.

Concurrent enrollment is now open. Please schedule an appointment by email with Mrs. Warnock to complete the enrollment forms.

Next Tuesday October 25, we will have high school picture retakes, Panel Picture retakes, and Panel pictures for sponsors and Admin. For the senior panel, Males are to wear a jacket, collared shirt, and tie. Females are to be in dress code. We will also take HS Volleyball, Softball, and Cross Country pictures in the afternoon.