CES Thanksgiving Feast - Due to a supply chain shortage, we will NOT be able to have Chisholm Elementary's annual Thanksgiving lunch. No visitor meals will be served on that day. Thank you.

Sports advertisement orders for the winter programs are due Nov 16. If you want to submit an ad, contact our Chisholm Sports Booster.


FALL BREAK - Just a reminder, Chisholm will be out of school beginning tomorrow, 10/14/21, through Monday, 10/18/21, returning to school on Tuesday, 10/19/21.

BIG NIGHT OUT IS BACK! The Chisholm Foundation will be hosting Big Night Out on October 23rd at the ENID MOOSE LODGE. "Boots & Bling- It's A Longhorn Thing" will feature live music by the Robert Allen Band, an amazing BBQ dinner, and a live and silent auction. Dress in your favorite cowboy attire and wrangle up your friends for this fun evening to raise money for Chisholm Schools. Follow the link to make your reservation.
https://forms.gle/mEFtT8ULax93ww4o9

THIS IS CHISHOLM


CHS softball gets a 14-0 win over Bethel in the Regional tournament. #longhornpride

Currently the HS softball game at Comanche is on. Game time has been pushed back two hours. 2:00 start. Comanche is working to dry the field.

HS volleyball has been cancelled for today, Thursday, September 30.

FOOTBALL TEAM - Today's meal is at the Deterding's house, 6205 North Oakwood. We will leave for the game tomorrow at 4:00 p.m. The team will have time to eat before leaving. The players will begin looking at film at 9:00 a.m. Saturday. We need anyone who plays in the game to try and be there to watch the film. The rest of the team is also welcome to watch. Thanks, Coach Welsh

CMS was notified this afternoon of one of our middle school students who has tested positive for COVID-19. Closely monitor your child for any symptoms. If symptoms develop, we ask that you keep your child home from school until symptom free. Please notify the office if your child will be absent from school. Thank you for your cooperation and feel free to contact us if you have any questions or concerns. Brett Barnes
bbarnes@chisholm.k12.ok.us

It was such a great day to be a Longhorn! John Inserra, founder of For Our Shared Humanity, stopped by CES today along his 1700 mile trek down the center of the US. He visited with our students about the significance of Ubuntu! Check out his website!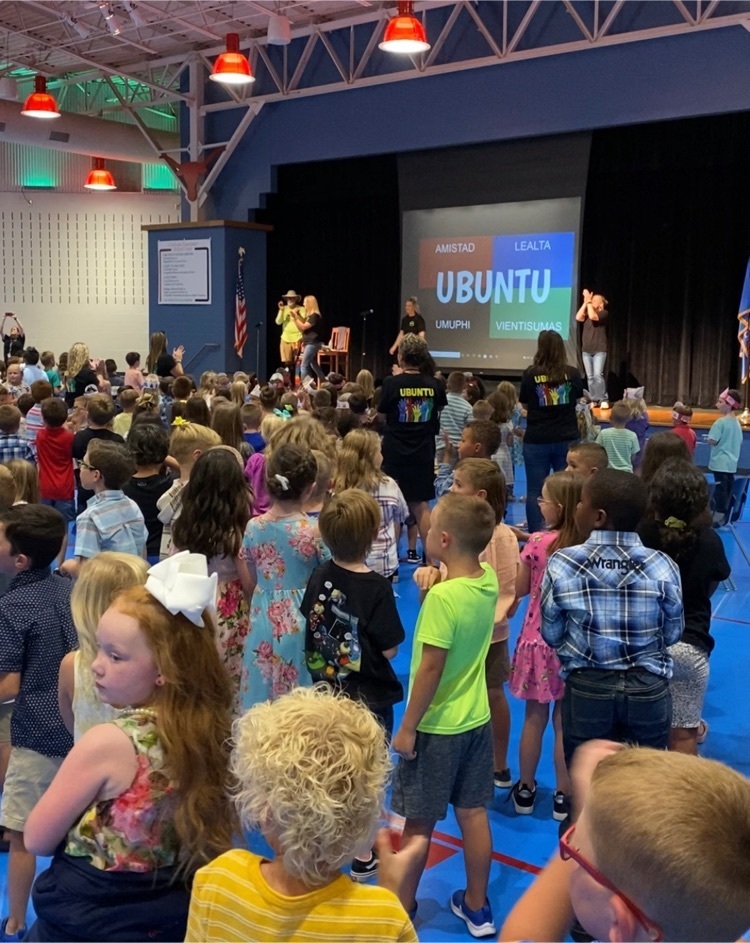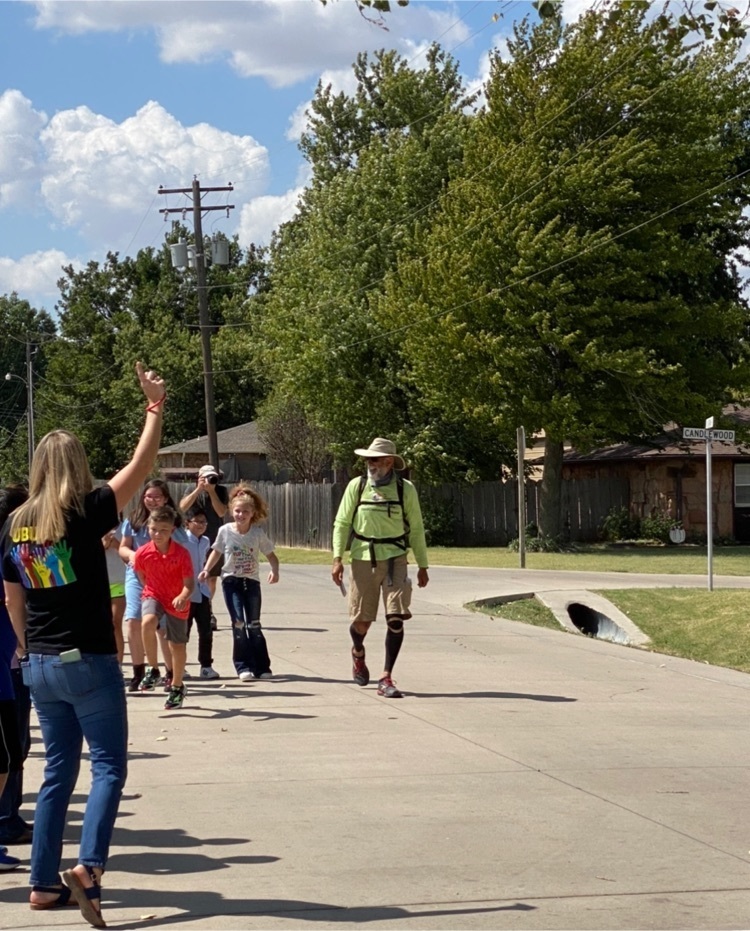 Elizabeth Bain named 2022 National Merit Scholarship Program Semifinalist Chisholm High School senior, Elizabeth Bain, has been named a semifinalists in the 2022 National Merit Scholarship Program. Elizabeth has been identified by the National Merit Scholarship Corporation as a student who shows exceptional academic ability and potential for success in rigorous college studies, according to a news release issued by the organization. There are about 16,000 semifinalists across the country being considered for the 67th annual scholarship program, which will award nearly $30 million to 7,500 high school seniors in the spring. About 95 percent of the semifinalists are expected to reach the "finalist" category; half of those students will win a scholarship and the title of "Merit Scholar." The semifinalists entered the program when they were seniors by taking the 2020 preliminary SAT and National Merit qualifying test. The semifinalists are the highest-scoring entrants from each state. Students who are named finalists will have worked with a high school official on a detailed scholarship application that includes details about their academic record, community and school involvement, leadership abilities, employment, and honors and awards. The finalists must also be recommended by a high school official, write an essay, and earn SAT or ACT scores that confirm their performance on the qualifying test. Finalists' names will be announced in February followed by the winners' name being released April through July. For more information, visit
www.nationalmerit.org

There will be a sign painting get together for all Freshman and NEW Chisholm High School athletes on Wednesday, 9/15/21, from 6:00-8:00 p.m. at Brett Klemme's shop located at 230 East Maple, Enid, OK 73701. Parents and athletes, please come during this time to paint your yard sign! Thank you for your patience with signs this year. If you have questions, please contact Ashley Ewbank.

CES Drama Club 2021-2022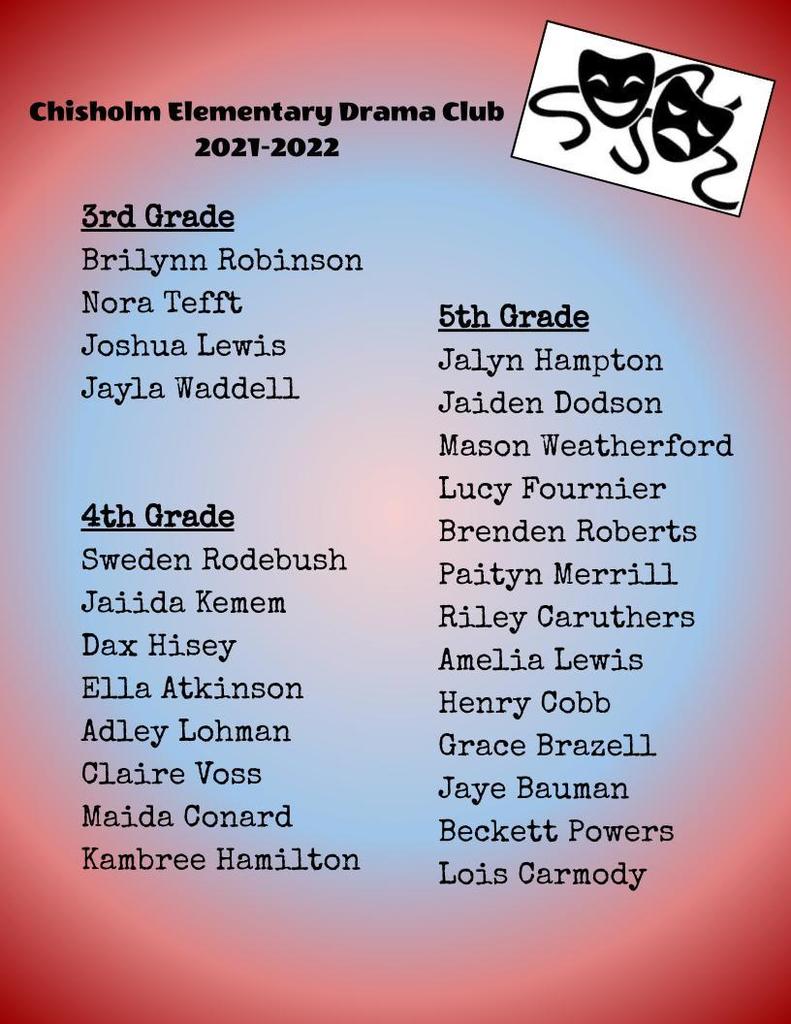 Since there is no school on Monday, 9/6/21, because of Labor Day, football practice will be at 4:30 p.m. The Tuesday night JV game against Cashion will be at home. - Coach Welsh

CMS Choir Club begins tomorrow, September 1! Students can meet Mrs. Schroder in the band room from 3-4:00 p.m.

CMS was notified this afternoon of one of our middle school students who has tested positive for COVID-19. Closely monitor our child for any symptoms. If symptoms develop, we ask that you keep your child home from school until symptom free. Please notify the office if your child will be absent from school. Thank you for your cooperation and feel free to contact us if you have any questions or concerns. Brett Barnes
bbarnes@chisholm.k12.ok.us