Job Posting: High School Counselor position - Please email your resume and teaching certificate to Angela Avila, High School Principal at
aavila@chisholm.k12.ok.us

Job Posting: High School Teacher Personal Financial Literacy and possible coaching (Science and/or Math certification preferred) - Please email your resume and teaching certificate to Angela Avila, High School Principal at
aavila@chisholm.k12.ok.us

CMS BASEBALL: April 5 Gametime Change. Gametime for the April 5 game at Alva has been moved to 4:30. The game will be played at NWOSU's field.

ATTENTION: Parents, be advised that Bus #14 is running approximately 45 minutes late today.

IMPORTANT MESSAGE: There will be changes to bus routes beginning April 1 and continuing for the rest of the school year. Bus #15 riders living on Sherry Lee and Sheryl Ann will be riding bus #14. Please be ready 15 minutes before your normal time. Bus #7 will pick up riders living on Chisholm Trail, Oxford, Yucca, Sage, Mesquite, Mistletoe, Redbud, Columbia and Grant. We will do a trial run on Wednesday, March 30. The new changes will take effect on Monday, April 4. Please contact your child's building principal with any questions.

CMS BASEBALL: Tomorrow's CMS baseball game time versus Newkirk has changed to a 4:00 start.



Kingfisher JH Baseball Tournament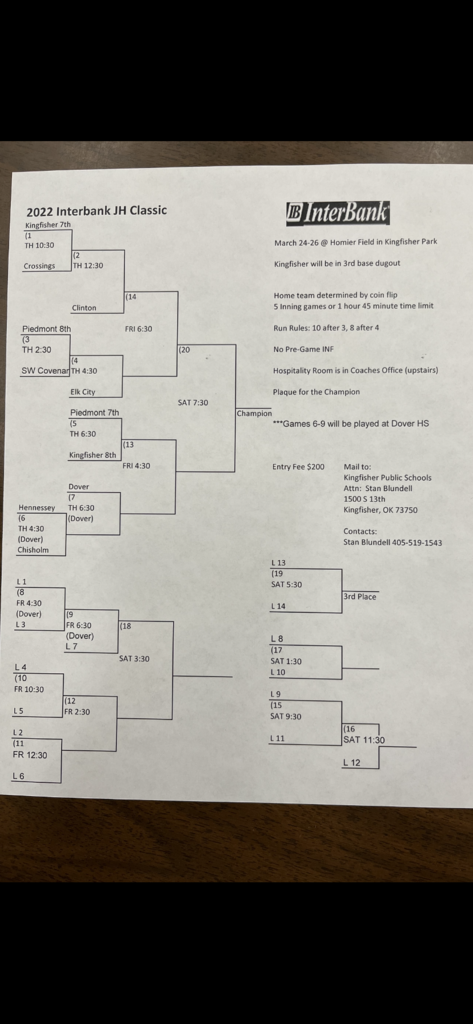 CMS BASEBALL: The CMS baseball team will practice Tuesday and Thursday from 12:30-2:30 for those players that are in town and can make it. If you cannot make it, please email Coach Biggers and let him know.

CMS BASEBALL: The varsity game at Perry tomorrow at 5:00 will be played at BMAC complex located on the west side of I-35 in Perry. Exit 2nd Street in Perry. Drive west on 2nd Street approximately one mile and the complex is on the south side of 2nd street.

CMS BASEBALL: CMS Baseball at Perry is CANCELLED for today. We are working to reschedule for tomorrow. We will know by the end of today if tomorrow will work. Today's JV game at home vs. Dover is still going to be played at 4:00.

This is a very difficult decision, but with tomorrow mornings temperature in the single digits and with many of the campus parking lots and sidewalks still ice covered we have decided the safest thing to do is to call school and use another one of our built in snow days.

Congratulations to Ellie Bain! Ellie is a National Merit Finalist for the Class of 2022. Ellie is the daughter of Chris and a Nicole Bain.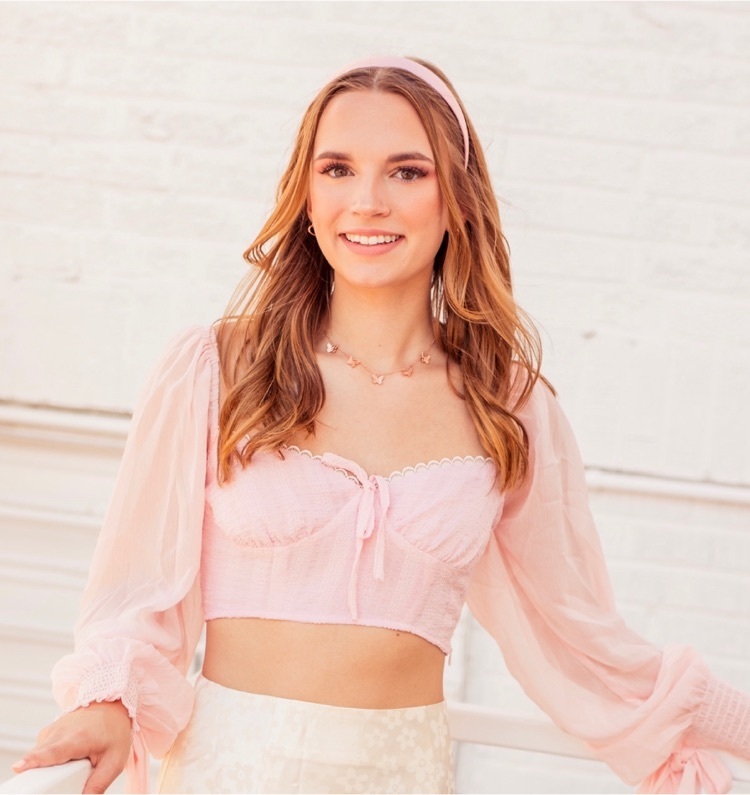 Due to pending inclement weather, Chisholm Public Schools will be closed today.

Inclement Weather Expected in State Winter weather is expected in the Enid area overnight and throughout the day on Thursday. School officials will be monitoring the weather tonight and will make the decision as early as possible on Thursday morning. If the District determines that it will be too hazardous for travel, Chisholm will use a snow day and will replace the built-in snow day on April 8th.

Tonights Chisholm School Board meeting has been cancelled and moved to next Wednesday night February 9th at 7 PM.

Due to the weather forecast of snow and freezing temperatures, Chisholm Public Schools will be going virtual from Wednesday, February 2, through Friday, February 4. Students will be given what they need to attend class virtually before leaving school today.

At tonight's high school basketball, there will be no JV games. Varsity girls will start at 6:00 pm. Boy's will start at 7:30. Homecoming activities will be at half time of the boy's varsity game.

Bus 14 route will be run after school today.