Big week for CHS Spring sports! #BestIsTheStandard #RARE #HORNS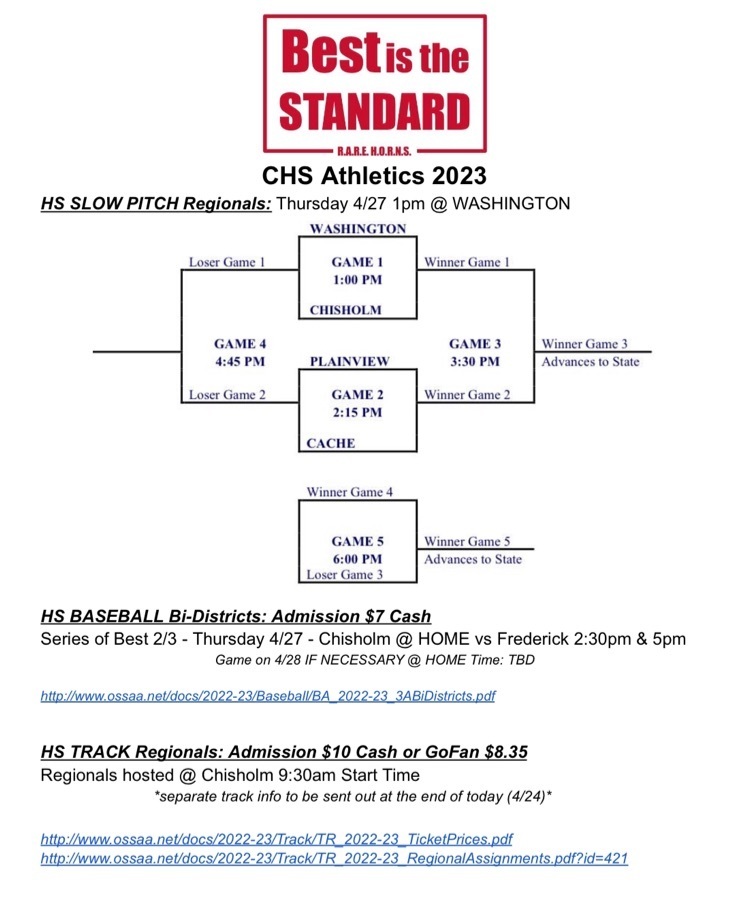 Longhorn family, The Chisholm Board of Education received notice that Dr. Darrow will be named the next superintendent of Enid Public Schools. Moving forward, Chisholm Public Schools are known for a high level of achievement in all areas. From our quality staff and engaged students to our involved parents and supportive community, Chisholm offers the opportunity to lead a close-knit community that is committed to its schools and – most importantly – to success for every student. "The board is committed and will work to find the best candidate for the next superintendent." Danielle Deterding, Chisholm Board President. Dr. Darrow will finish the school year strong for Chisholm, and then transition to his new position sometime this summer. We wish him the very best in his new position and appreciate the contribution he has made to Chisholm Public Schools. Chisholm School Board Members, Danielle Deterding, President; Drew Ewbank, Vice President; Dr. Dustin Baylor, Clerk; Geri Ayers, Member; Cory Moore, Member.
FF! WOW goes to Keith Morris. Keith has been showing up to FF this semester ready to work! He is consistent in his attitude and effort at every workout. #BestIsTheStandard #RARE #HORNS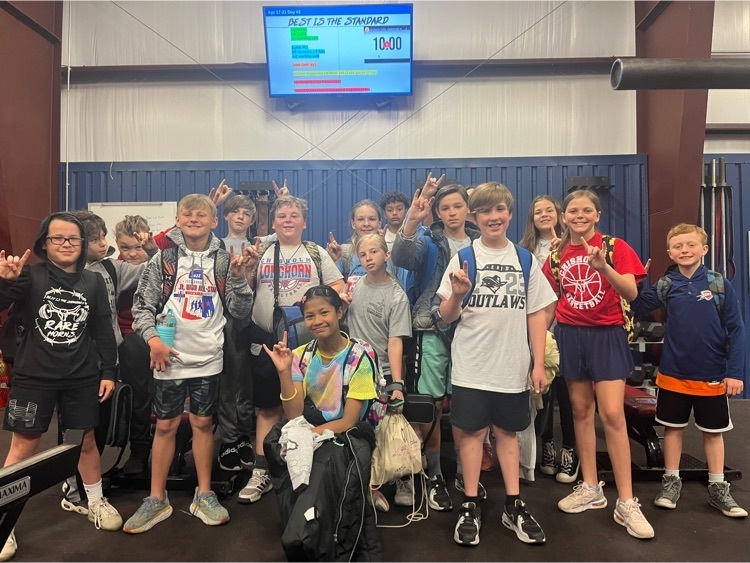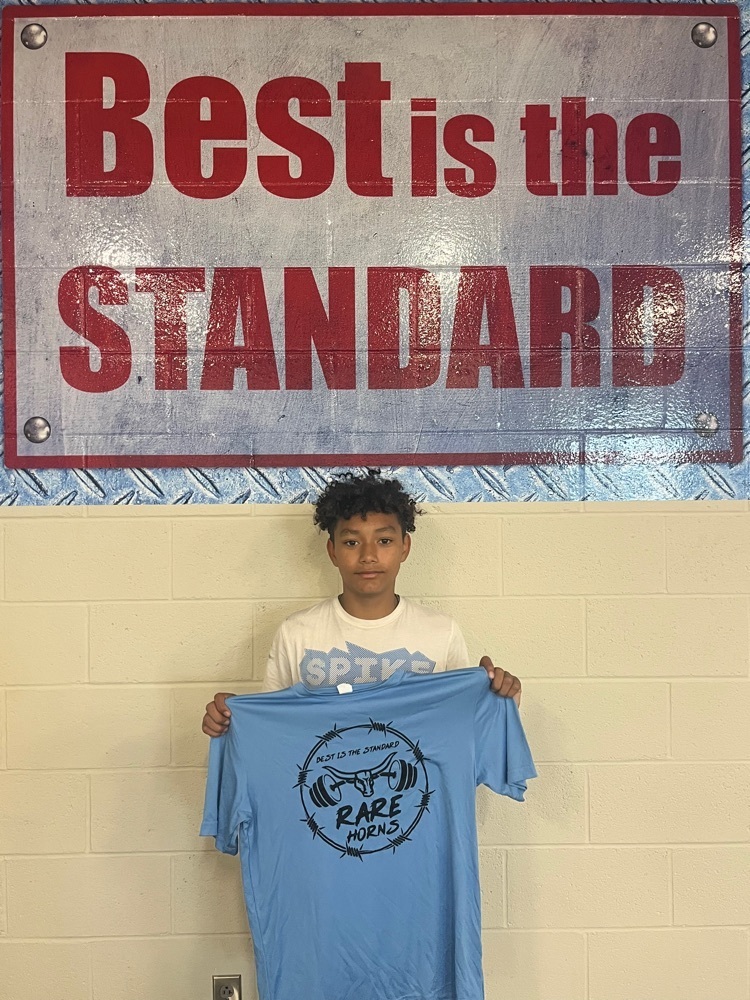 CPS Athletics 4/24-29 #BestIsTheStandard #RARE #HORNS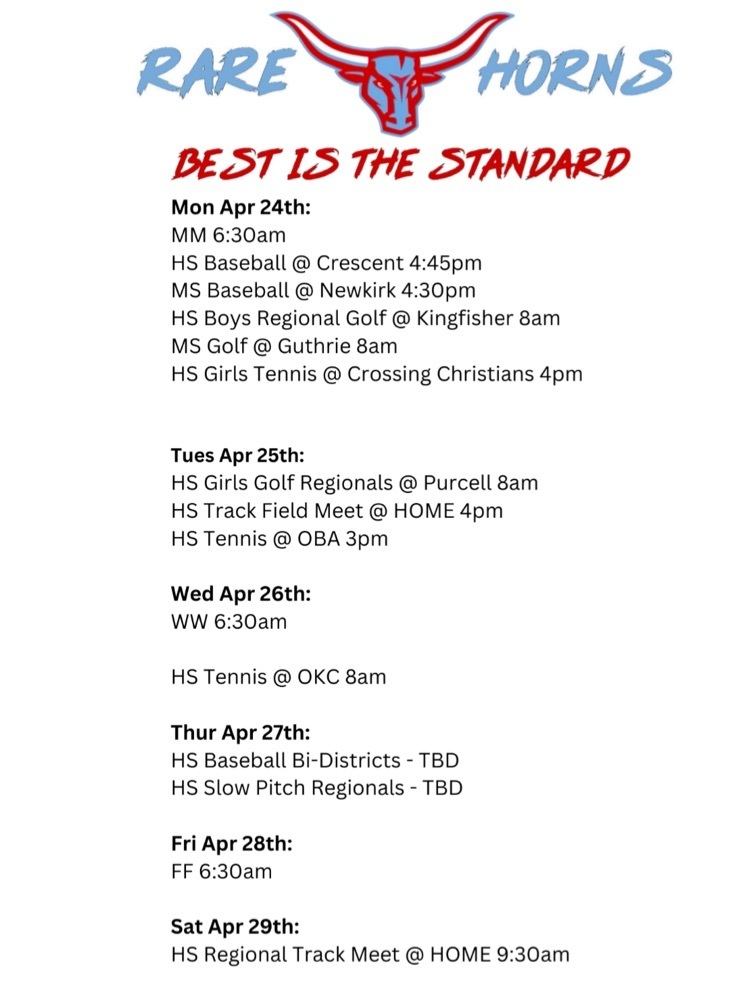 WW 💪 WOW goes to Karsen Hennigh. Karsen fits our standard of giving his best in the classroom as well as athletics! #BestIsTheStandard #RARE #HORNS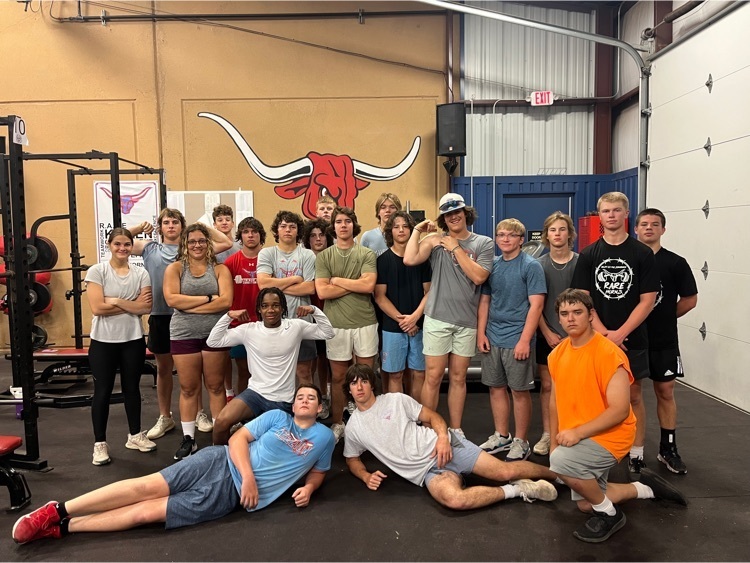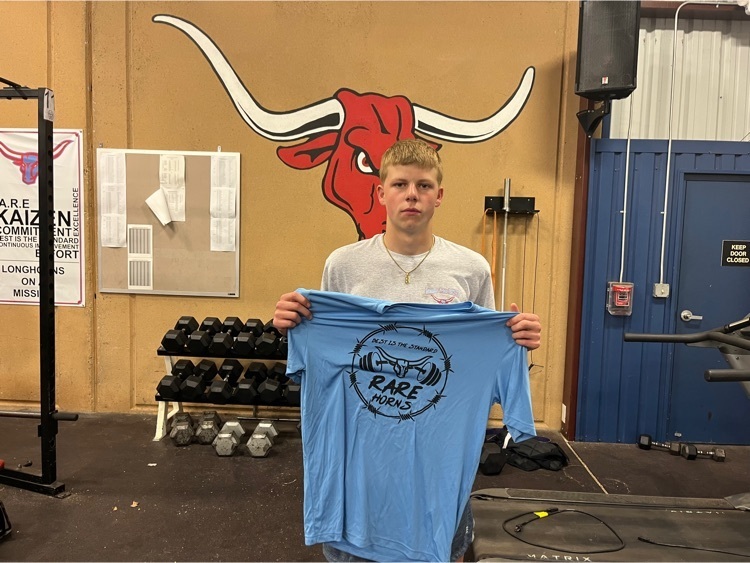 COME SUPPORT OUR LONGHORN DRAMA CLUB! Chisholm Middle School Drama Club Presents: Hey Diddle Diddle: The Adventures of The Dish and The Spoon Written by Bradley Walton Directed by Mrs. Buford April 25 6:00pm Chisholm Middle School Multipurpose Room No entry fee / donations accepted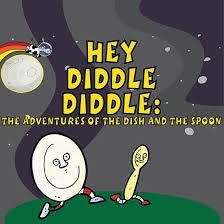 HS SP Districts Update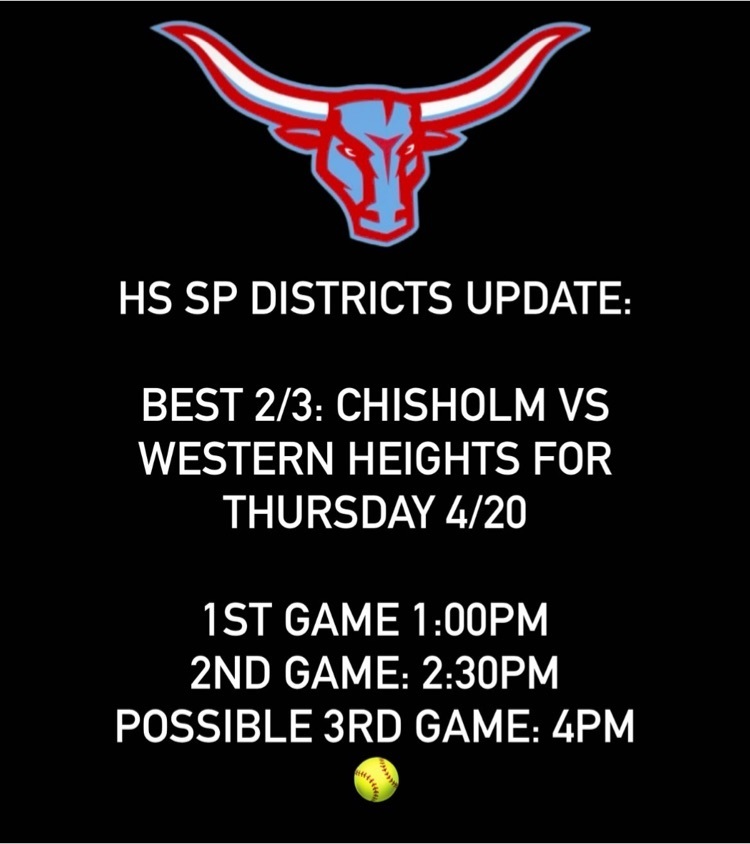 Help us spread the word by sharing this on your personal Facebook page AND your neighborhood Facebook pages! (Just take a screenshot to share.) It's Kindergarten RoundUp time!! We are hoping to get all of our in-district kiddos who will be 5 years old on or before September 1st "rounded up" and enrolled by May 5th, so we know how many Kindergarteners to prepare for! ♥️💙 *Contact Tristan Ellis at the Administration Building to ENROLL. 📝 *Contact Darla Smith or Amanda Rappa at the elementary if you have any QUESTIONS.
Brandon Taylor has demonstrated our standard of doing your best all year. His work ethic in the weight room is a reflection of his growth mindset of wanting more! 3-sport athlete who values his in-season S&C just as much as his off-season S&C. #BestIsTheStandard #RARE #HORNS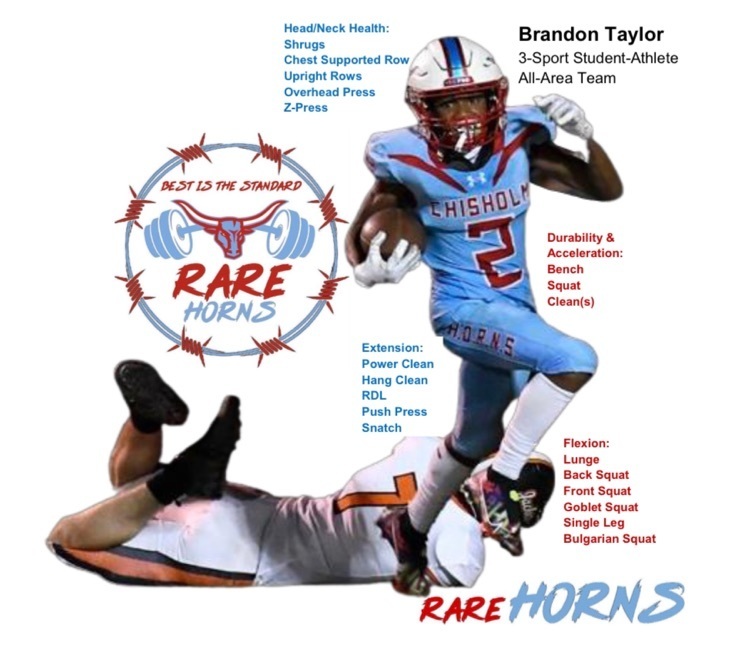 Correction to the senior tables. Payments must be made by April 28th by 3:00 pm. Names will be randomly drawn for table placement. Please turn money into Ms. Stuckey. Any payment after April 28th will have the option of the tables that are left.

Senior Night Info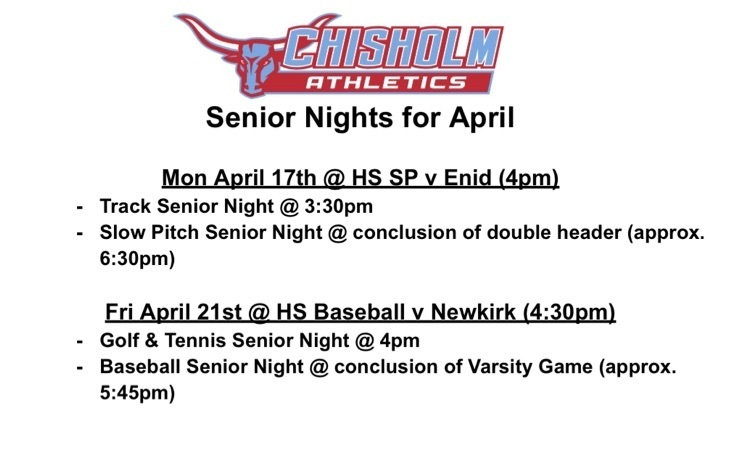 MM 💪 WOW goes to JK Bauman. She's been a reliable leader at MM all year! Keeps her group accountable for all reps and sets during workouts. #BestIsTheStandard #RARE #HORNS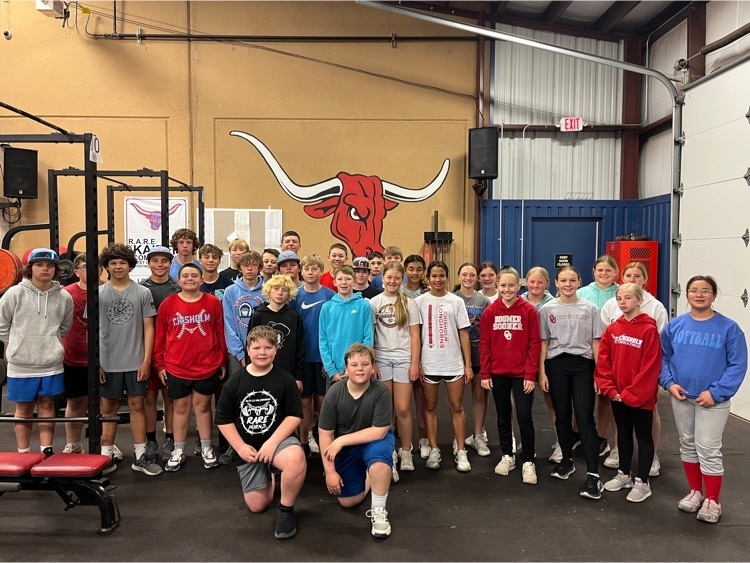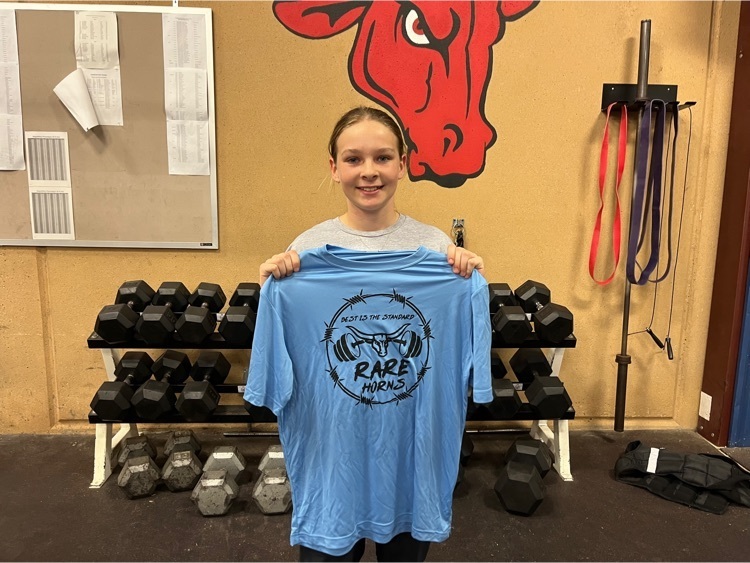 April Board Mtg Athletics Recognition: FB: Lucas Easter- 2A, All-Star by class, 2A-1 All District OL, All-Area Team, K101 Classic Bowl All-Star Cooper Ridgway- 2A-1 Courage Award Recipient Brandon Taylor- All-Area Team BB: Record 13-14 Consolation Champs Buckle of the Wheatbelt Tournament (Kingfisher) Chisholm Longhorns 89er Conference Champs Chisholm Longhorns District 3 Champs Huston Lane - All Conference Kellen Epps - All Conference GB: Record 11-16 Frontier Tournament - Runner-up District 3 Champions Alice Watkins - CTB All-Star Team Alice Watkins - 1,059 Career Total Points Alice Watkins - 89er 1st Team All-Conference Avery Lane- Wheat Capital All-Tournament Team Avery Lane- 89er Honorable Mention #BestIsTheStandard #RARE #HORNS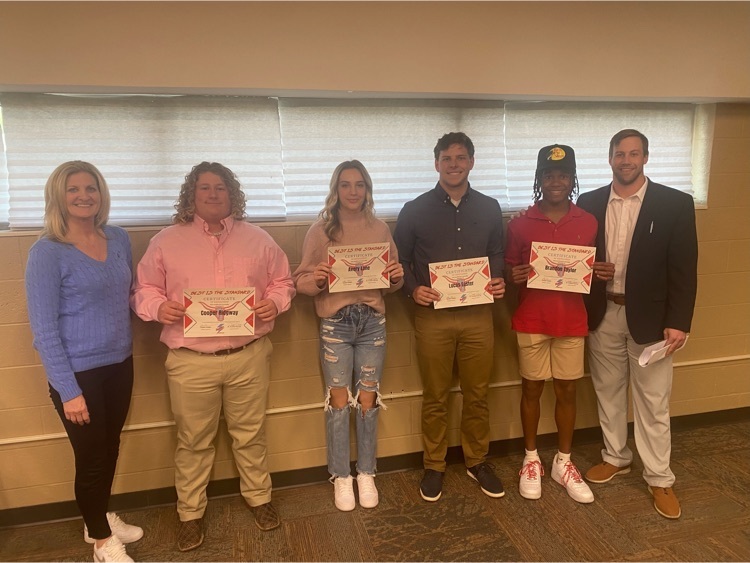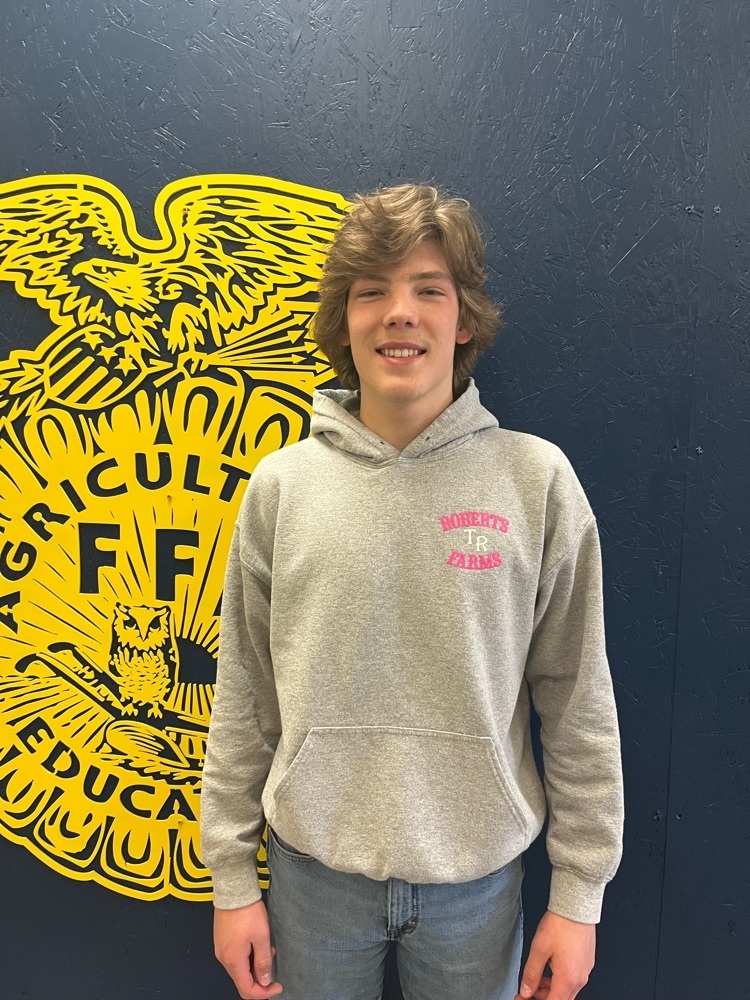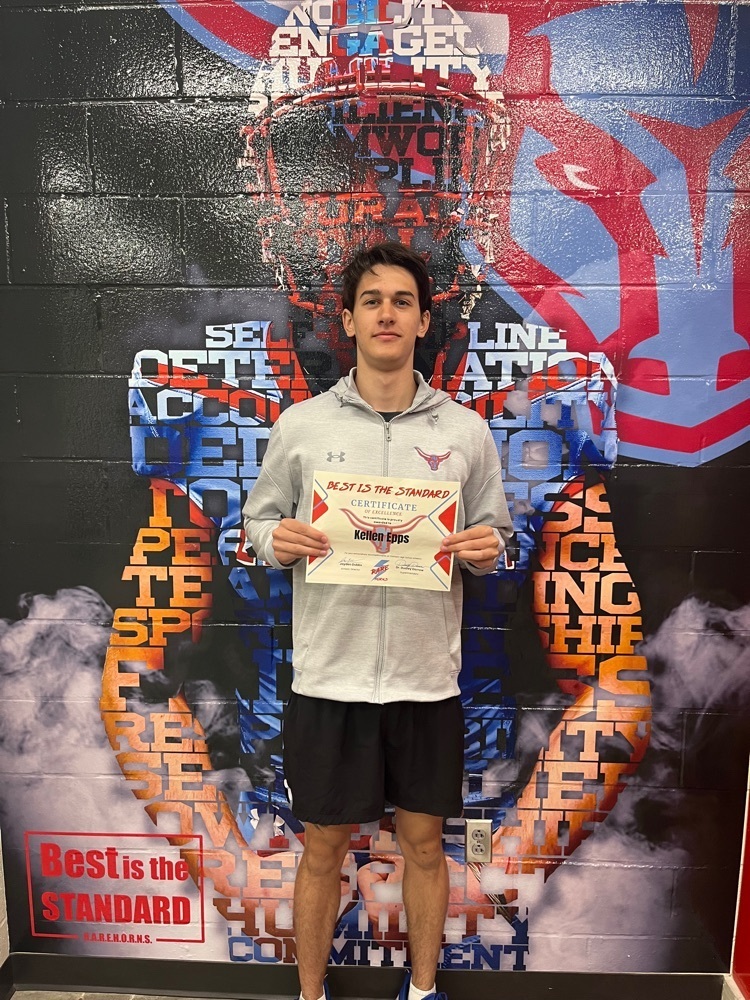 CPS Athletics 4/17-22 #BestIsTheStandard #RARE #HORNS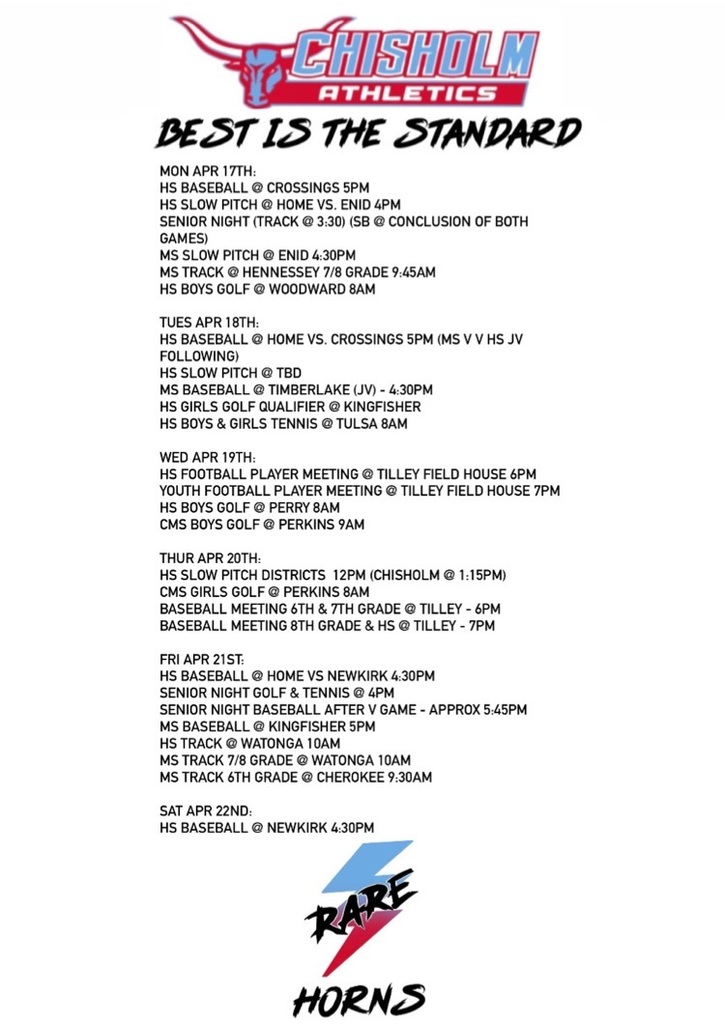 MS SP takes runner-up @ Crescent tournament. #BestIsTheStandard #RARE #HORNS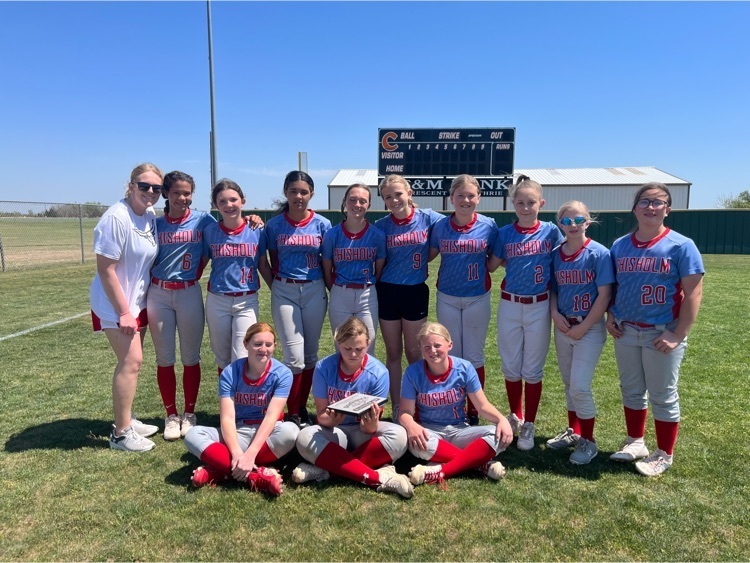 If your student missed the SAT on April 12th, they will be taking it on Wednesday, April 19th. This is the only make up day that the state allowed us. And, a reminder that CCRA History test is Monday, April 17th for 11th grade. Thanks for helping us with our testing!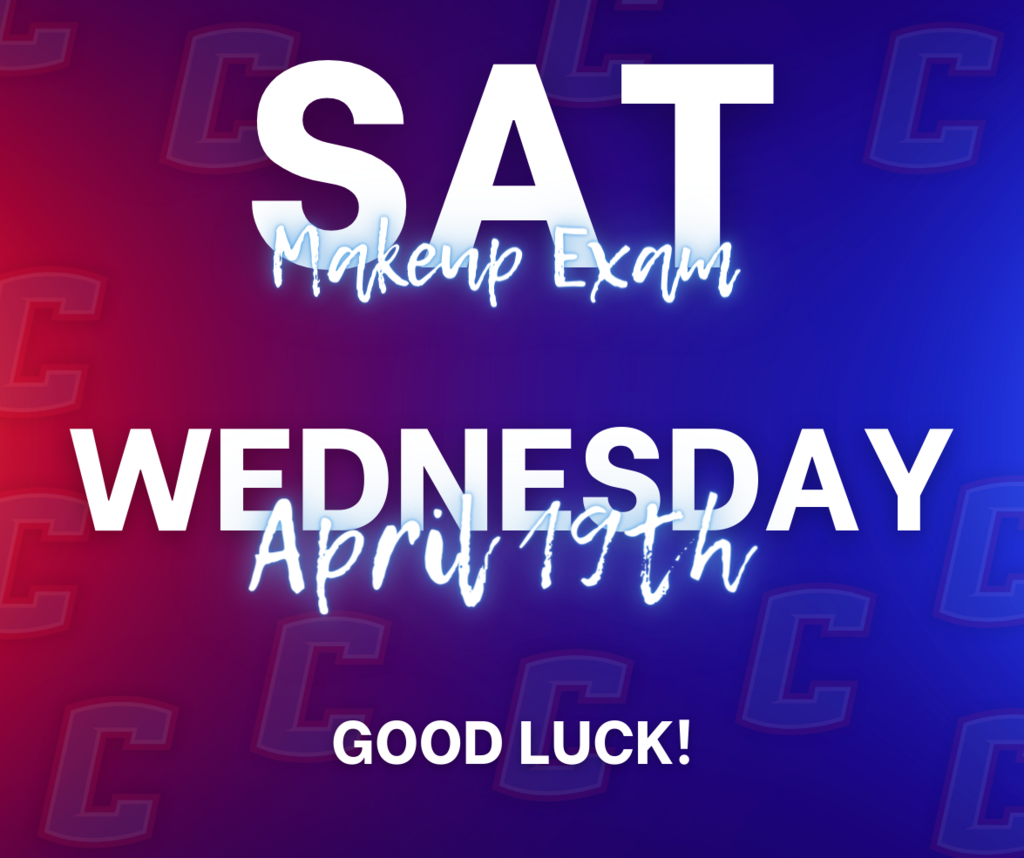 FF on a Thursday! Our kids have been working hard and doing a great job of being engaged all year. Thanks to their focus and consistency in building their foundation, we've been able to slowly progress to using the training barbell! WOW goes to Ian Watkins, never misses a FF and always demonstrates our core values! #BestIsTheStandard #RARE #HORNS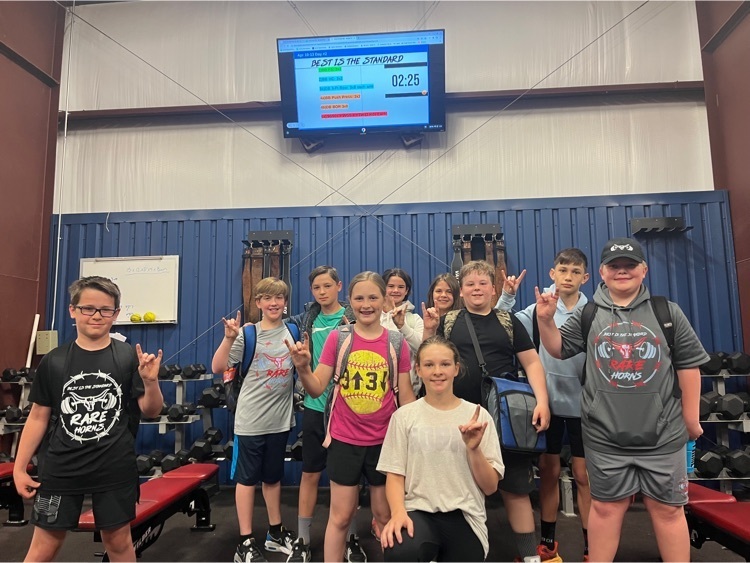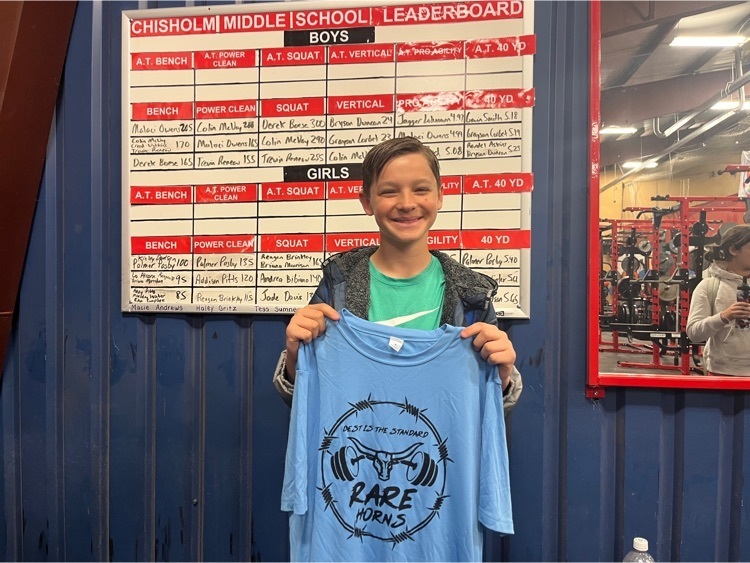 Congratulations to Mr. Tilley and our Chisholm Trap Shooting teams. Yesterday our Chisholm Middle School team placed 2nd in the state, and our Chisholm High School team placed 4th. Congratulations to all involved! Go Longhorns!